About Us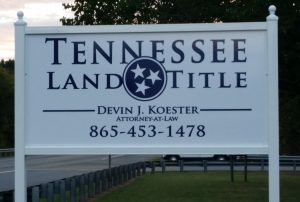 The staff of Tennessee Land Title, has been providing outstanding service in Sevier County since 1987. We strive to provide quality title insurance and settlement services at reasonable rates. Tennessee Land Title is dedicated to the goal of providing flawless title examination as well as fast, convenient, smooth and pleasant transactions.
For buyers of real property, Devin J. Koester, the attorney at Tennessee Land Title will ensure that you get a clear title to your new property.
If you need real property legal work including deeds, mortgages, title examinations, and title insurance done in an honest, efficient, dependable, and friendly manner, then you can count on us at TENNESSEE LAND TITLE. We offer the best products at the most reasonable rates for SEVIER, JEFFERSON, KNOX, BLOUNT and COCKE COUNTIES of TENNESSEE. We are located at the corner of Newport Highway and Robert Henderson, just past Pittman Center Road.
Make an appointment to stop and visit with our friendly, efficient staff and you will readily see why we have become the NUMBER ONE CHOICE for title companies in Sevier and surrounding counties.  We are open M-F 8:30-4:30.